Contact Us
146 Tate Student Center
University of Georgia
Athens, GA 30602
Monday – Friday
10 a.m. – 2 p.m.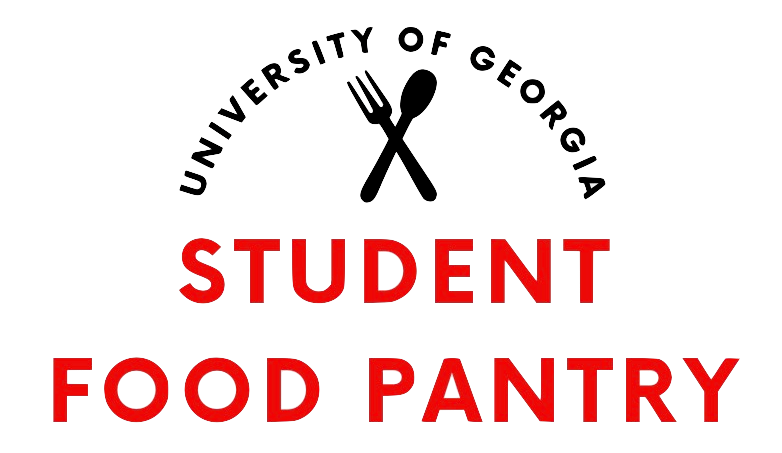 What is the UGA Food Pantry?
In 2011, UGA students recognized a need on campus and decided to address the troubling situation of student food insecurity. One year later, a few members of the Panhellenic Council took it upon themselves to establish the UGA Student Food Pantry to provide a variety of non-perishable food items and other hygiene supplies at no cost to any UGA student. Along with this, the Pantry also works to inform visitors of other resources offered on campus and in the community.
Since its establishment in 2011, the Pantry has grown in its ability to serve and awareness around campus. We have acquired a refrigerator and a freezer to allow us to keep even more food and meals, and, while we are still Panhellenic sponsored, we now have volunteers from all over campus. Along with this, we have created an online ordering system. Check out our PantrySoft information to find out more about how it works!
Registering with PantrySoft
In order to visit the pantry, you will first need to register with PantrySoft. Once your account is created, you can visit anytime during the pantry's regular hours and can also order online! Walk-ins are welcome, but you'll need to register when you get there.
How to Register
1. Visit app.pantrysoft.com/login/uga
2. Select "Sign Up"
3. Enter your information and select a username and password you can remember
4. Log in using your new account information
5. Complete your registration (will only need to be completed annually)
6. Enter demographic information 
7. For "Additional Household Members" – include any other person living in your household in the respective age ranges (roommates, family members, etc.)
8. From there, you will be able to log in to place and order online and a pick up time, or you will provide your student ID number when you walk in during the pantry's walk-in hours!
Note: All registration information is kept strictly confidential.
Volunteer
Anyone is welcome to volunteer in the UGA Student Food Pantry! Just click the links below and check out which time slots work for you.

August Volunteer Sign Up
September Volunteer Sign Up
October Volunteer Sign Up
November Volunteer Sign Up
December Volunteer Sign Up
We appreciate everyone's help to keep the pantry staffed! To check-in for your shift, please visit the Greek Life Office (153 Tate Student Center) front desk to sign in. Instructions are located on the pantry desk for how to help!
If you would like to have your whole organization volunteer in the Pantry, email ugapantry@gmail.com so you can set up a time for slots to be reserved for your members. If you choose to do this, you will be responsible for filling an agreed upon number of slots for the week. Each volunteer slot is only 1 hour and only 1 volunteer works at a time.
Donate
Donations are always welcome! Click here to check out our Amazon wish list or if you are a UGA student organization and would like to host a food drive, email ugapantry@gmail.com to organize this. You'll be directed to our Donations Coordinator to help coordinate the food drive and items needed.
Items needed:
– Canned meat (chicken, tuna, salmon)
– Rice
– Microwaveable meals
– Seasonings and condiments
– Pantry essentials (oil, flour, sugar, etc.)
– Breakfast items
– Snack bars
– Pasta and sauce
– Refrigerated and frozen goods
Monetary Donations
We truly appreciate any monetary donations. These allow us to buy items that are normally not donated but always wanted in the Pantry. You can make a check out to "UGA Food Pantry" and include "Acct. 90312000" in the memo field. Please mail to the following address:
UGA Student Food Pantry
153 Tate Student Center
Athens, GA 30602
You may also donate online here. Ensure that the designation number is "90312000" for the UGA Food Pantry Support Fund.
Frequently Asked Questions
Who can visit the Pantry?
The Pantry is open to any UGA student (undergraduate, graduate, professional).
Where is the Pantry located?
We are located on the first floor of the Tate Student Center in Room 146, across from Campus Reservations and the Greek Life Office.
When is the Pantry open?
We are open from 9-5 Monday through Friday. If you need to visit the Pantry outside of regular operating hours, please call us or visit a staff member in the Greek Life Office and they will give you access.
I'm not a member of the Panhellenic community. Can I still volunteer?
Yes! While we are Panhellenic sponsored, anyone can help out in the Pantry. We are completely student-run and need volunteers to stay operable. We do hour-long shifts during operating hours.
Can my whole organization volunteer?
Yes! We love having student organizations volunteer to help us staff the Pantry. Email the Director at ugapantry@gmail.com

and she will help you coordinate a time when you can all come in!
The Let All the Big Dawgs Eat Food Scholarship was created in an effort to support our students' nutritional needs. Students with a demonstrated financial need can apply to receive a meal plan scholarship.
Financial Hardship Resources
Financial circumstances can change quickly, at times in ways outside your control. We understand financial hardship can bring significant stress and impact your ability to succeed and flourish at UGA.