Our dates and format for Panhellenic Recruitment are subject to change for the health and safety of our current and potential new members. As decisions are made and information becomes available, we will continue to update our website with information about the format and timeline of Panhellenic Recruitment.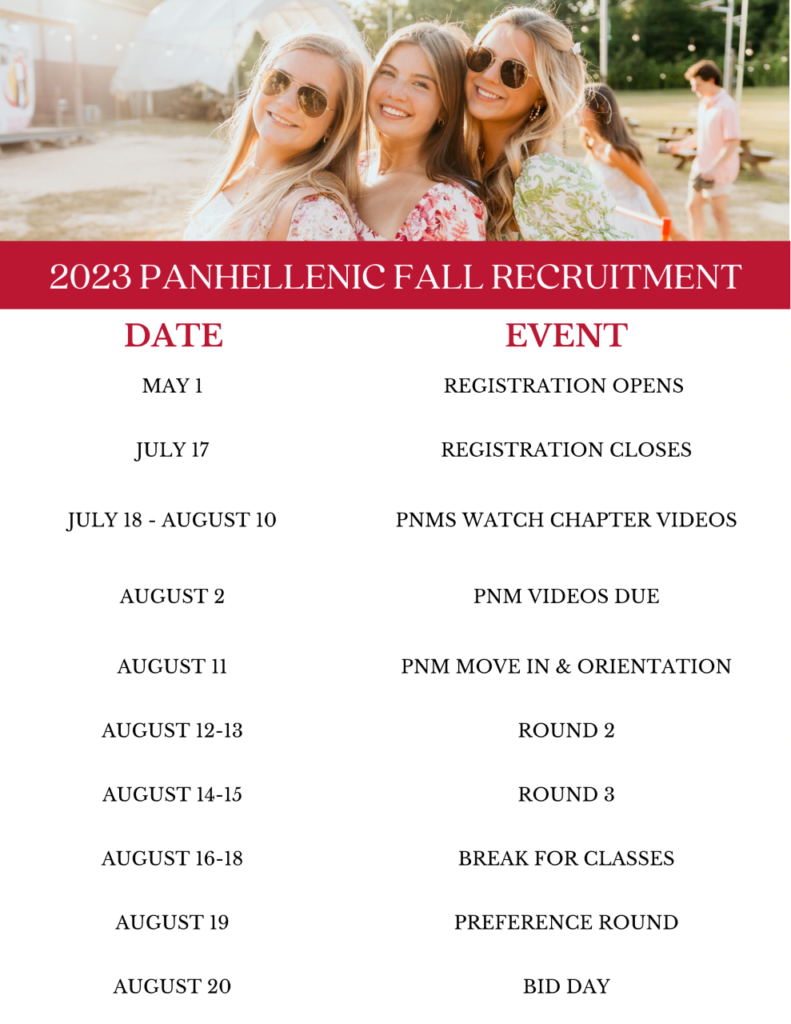 Dates for Fall 2024 Recruitment to be released soon. All questions should be directed to ugarecruitment@gmail.com.
The fee for recruitment covers several meals, transportation to all recruitment events, campus facilities usage, a t-shirt, and other recruitment materials. Fall 2024 Recruitment dates coming soon.
2024 Registration Dates and Fees
TBD        Fee TBD
*PNMs living on campus will be permitted to move in on (date TBD). Information for University Housing contracts can be found at https://housing.uga.edu/move-in/. Please note that the Greek Life Office does not coordinate the housing schedule.
*Any questions or concerns about the recruitment registration fee should be directed to the Greek Life Office by calling 706-542-4612.
FEE WAIVER – COMING SOON!
The Panhellenic Council is sponsoring fee waivers for those needing assistance with payment. Please use the link below to fill out the application form if needed. Those selected will be notified via email. The fee waiver is open to all PNMs, regardless of if the registration fee has already been paid. In that case, the council will provide a refund. Applications are due (date TBD) and submissions will be reviewed on a rolling basis.
Fee Waiver Application Form – 2024 application coming soon!
Panhellenic Information Sessions and Orientation
New students? Check us out at Orientation when you come to visit UGA!
We will be hosting optional information sessions over the summer to learn more about the Panhellenic community at UGA and how to join. There are virtual sessions for both Potential New Members and parents/families, so be sure to register for the appropriate session by selecting the date and time below. All sessions will be recorded and posted on our website.
Potential New Member Information Sessions:
Monday, May 15th at 7:00pm EDT – Watch the recording HERE!
Tuesday, June 13th at 7:00pm EDT – Watch the recording HERE!
Tuesday, July 11th at 7:00pm EDT – Register HERE!
Parent/Family Information Session:
Tuesday, June 20th at 7:00pm EDT – Watch the recording HERE!
Parent and Family Information
Optional Parent and Family Orientation information will be provided in late summer. Once available, we will update our website with details.

Some families choose to purchase Bid Day gifts for their students joining a sorority. Visit the website for University Spirit in Athens here or their Instagram page (@universityspirit_athens) for more information! 
Reach out to the Greek Life Office with any questions about your student's participation in Panhellenic Recruitment.
The Pointer: Fall Recruitment Guide
Please click the button to view the 2023 edition of The Pointer, our Panhellenic recruitment guide.
University of Georgia Panhellenic Recruitment is open to all enrolled UGA women regardless of race, religion, color, age, national origin, disability, or veteran status.  The recruitment process is committed to providing access and accommodations for all people with disabilities. If you need accommodations, please call the Greek Life Office at 706-542-4612 by July 30th, 2022 for specific requests.
Recruitment Frequently Asked Questions