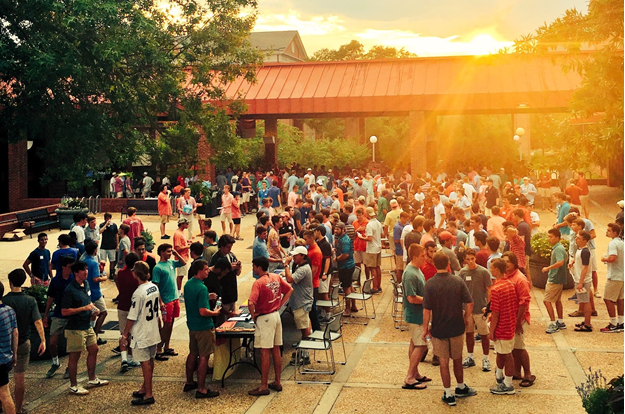 Spring 2021 Recruitment Registration Is Now Open!
IFC Spring Recruitment Registration is now open. Recruitment is scheduled to begin on January 21 and will conclude on January 26. A specific schedule for recruitment is as follows: 
Thursday, January 21st – IFC Meet and Greet. We will be hosting an IFC Meet and Greet at Ramsey Student Center between 6:00pm-8:00pm, where you will be able to meet the recruitment chairs for those chapters who will be taking a new member class. If you have not recieved a bid to join a chapter, you must attend this event! 
Friday, January, 22nd – Sunday January 24th – Open Recruitment Events. IFC Chapters will each be hosting their own individual invite only events during this time. 
Monday, January 25th – Follow Up Meet and Greet – This will be an optional Meet and Greet for those interested new members who have not yet recieved an invitation to join. This will occur from 11:00am-2:00pm in the Tate Reception Hall on the first floor of the Tate student center. Lunch will be provided.
Once you register, chapters will have access to your contact information and they may begin contacting you regarding recruitment events – these may occur prior to the start of recruitment!  We also encourage you to reach out to chapters individually and express your interest in joining. You may access their contact information here!
Download the Fraternity Way, our annual recruitment publication. The Fraternity Way contains general information regarding the IFC, as well as an overview of all of our chapters. It also includes their contact information so you can reach out to them directly.
Only students currently enrolled for Spring 2021 classes as UGA are eligible to participate in recruitment. In January 2020 the council unanimously voted to change eligibility requirements to receive a bid and participate in new member education. For more information, click here.
What is Recruitment or "Rush"?
Recruitment, or "rush," is the term used for the period of recruitment of new members for fraternities.  Formal Fall recruitment consists of three structured days that include an orientation meeting and mandatory visitation of each chapter house to meet members and learn more about fraternity life. After visiting each chapter, potential new members are free to visit any of the chapters for the next two days.  For information about fraternity life and how to join a fraternity, check out the Fraternity Way, IFC's annual recruitment publication. You also will be able to join us during orientation to learn more about IFC fraternities and how to join.
Frequently Asked Questions
View the answers to some frequently asked questions about the IFC recruitment process.
The recruitment process is committed to providing access and accommodations for all people with disabilities. If you need accommodations, please call Mason Black at (706) 542-4612 for specific requests.
Spring 2021 IFC Recruitment Schedule
A specific schedule for recruitment will be made available soon.