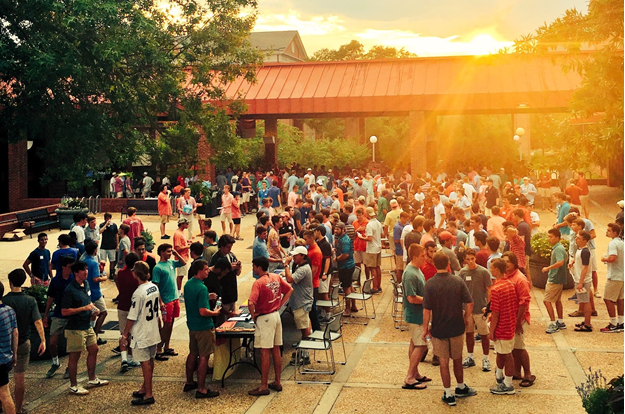 Fall 2020 IFC Fraternity Recruitment IS NOW OPEN!
IFC Formal Recruitment will begin on Sunday, August 16th, and will conclude on Sunday, August 23rd. A specific schedule for recruitment can be found on the registration page or by clicking here.
Download the Fraternity Way, our annual recruitment publication. The Fraternity Way contains general information regarding the IFC, as well as an overview of all of our chapters. It also includes their contact information so you can reach out to them directly.
Only students currently enrolled for Fall 2020 classes as UGA are eligible to participate in recruitment. In January 2020 the council unanimously voted to change eligibility requirements to receive a bid and participate in new member education. For more information, click here. 
What is Recruitment or "Rush"?
Recruitment, or "rush," is the term used for the period of recruitment of new members for fraternities.  Formal Fall recruitment consists of three structured days that include an orientation meeting and mandatory visitation of each chapter house to meet members and learn more about fraternity life. After visiting each chapter, potential new members are free to visit any of the chapters for the next two days.  For information about fraternity life and how to join a fraternity, check out the Fraternity Way, IFC's annual recruitment publication. You also will be able to join us during orientation to learn more about IFC fraternities and how to join.
Where Will I Live During Recruitment?
In order to participate in recruitment, potential new members may move in early on Friday, Aug. 14 and Saturday, Aug. 15. You must register for a move in time through University Housing (https://housing.uga.edu/site/resources_movein_moveout). You must be registered for recruitment in order to be elgibile to select an early time slot. Please note that the Greek Life Office is not in control of the housing schedule.
Frequently Asked Questions
View the answers to some frequently asked questions about the IFC recruitment process.
The recruitment process is committed to providing access and accommodations for all people with disabilities. If you need accommodations, please call Mason Black at (706) 542-4612 for specific requests.
Fall 2020 Formal Recruitment Schedule