The University of Georgia
The Inter-Fraternity Council is a self-governing body representing
the 26 member fraternities at the University of Georgia
153 Tate Student Center
University of Georgia
Athens, GA 30602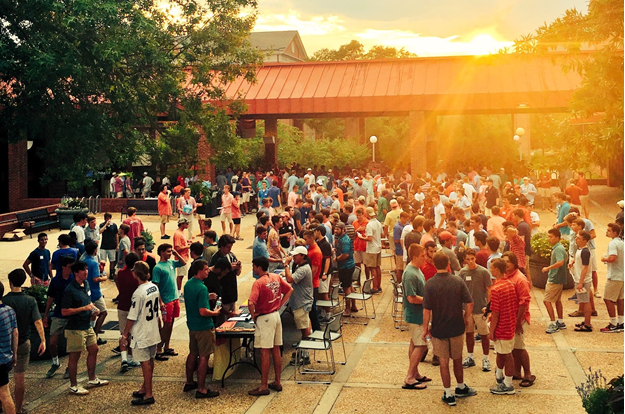 Fall 2022 Recruitment Registration Is Now Open!
Fall 2022 Recruitment Registration is now open! Fall Recruitment will occur from Sunday, August 14 through Sunday, August 21, 2022. 
Chapters participating in Fall 2022 Recruitment: Alpha Epsilon Pi, Alpha Gamma Rho, Alpha Tau Omega, Beta Theta Pi, Beta Upsilon Chi, Chi Phi, Chi Psi, Delta Kappa Epsilon, Delta Sigma Phi, Delta Tau Delta, Kappa Alpha Order, Kappa Sigma, Phi Delta Theta, Phi Gamma Delta (FIJI), Phi Kappa Psi, Phi Kappa Tau, Phi Kappa Theta, Pi Kappa Alpha, Pi Kappa Phi, Sigma Alpha Epsilon, Sigma Chi, Sigma Phi Epsilon, Sigma Pi, Tau Epsilon Phi, and Theta Chi. 
Inter-Fraternity Council Information Sessions and Orientation
New students? Check us out at Orientation when you come to visit UGA. More information to come!
We will be hosting optional information sessions over the summer to learn more about the IFC community at UGA and how to join. There are virtual sessions for both Potential New Members and parents/families, so be sure to register for the appropriate session by selecting the date and time below.
Potential New Member/Families Information Sessions: JOIN HERE
Sunday, July 3rd at 6:00pm EST
Sunday, July 17th at 6:00pm EST
Sunday, July 31st at 6:00pm EST
Please note: Students not enrolled at UGA are NOT eligible to join a fraternity at UGA or participate in any events or activities related to new member education. In January 2020 the Interfraternity Council unanimously voted to change eligibility requirements to receive a bid and participate in new member education. To view the bill, click here.
What is Recruitment or "Rush"?
Recruitment, or "rush," is the term used to describe the process of fraternities recruiting new members to join their organization. The IFC has three main periods of recruitment:
Summer Recruitment: Fraternities may host individual, chapter specific recruitment events during the summer. Once you register for recruitment, fraternities will have access to your contact information and may invite out to these events!
Fall Formal Recruitment: This is the IFC's primary recruitment period. It consists of a structured week of events that include an orientation meeting, visitation of chapter facilities, and fraternity specific events. Should you not have the ability to attend summer recruitment events and/or do not receive bid, you will have the opportunity to participate in this full week of structured events.This primarily occurs the week prior the start of Fall semester classes.
Spring Recruitment: Should you choose not to join a fraternity in the fall semester, we also offer spring recruitment, similar to the fall. Note that not all chapters will participate in spring recruitment – on average, 15/26 chapters participate.
For for more information about fraternity life and how to join a fraternity, check out the Fraternity Way, IFC's annual recruitment publication. You also will be able to join us during orientation to learn more about IFC fraternities and how to join!
Download the Fraternity Way, our annual recruitment publication. The Fraternity Way contains general information regarding the IFC, as well as an overview of all of our chapters. It also includes their contact information so you can reach out to them directly.
Only students currently enrolled for Fall 2021 classes as UGA are eligible to participate in recruitment. In January 2020 the council unanimously voted to change eligibility requirements to receive a bid and participate in new member education. For more information, click here.
Frequently Asked Questions
View the answers to some frequently asked questions about the IFC recruitment process.
The recruitment process is committed to providing access and accommodations for all people with disabilities. If you need accommodations, please call the Greek Life Office at (706) 542-4612 for specific requests.