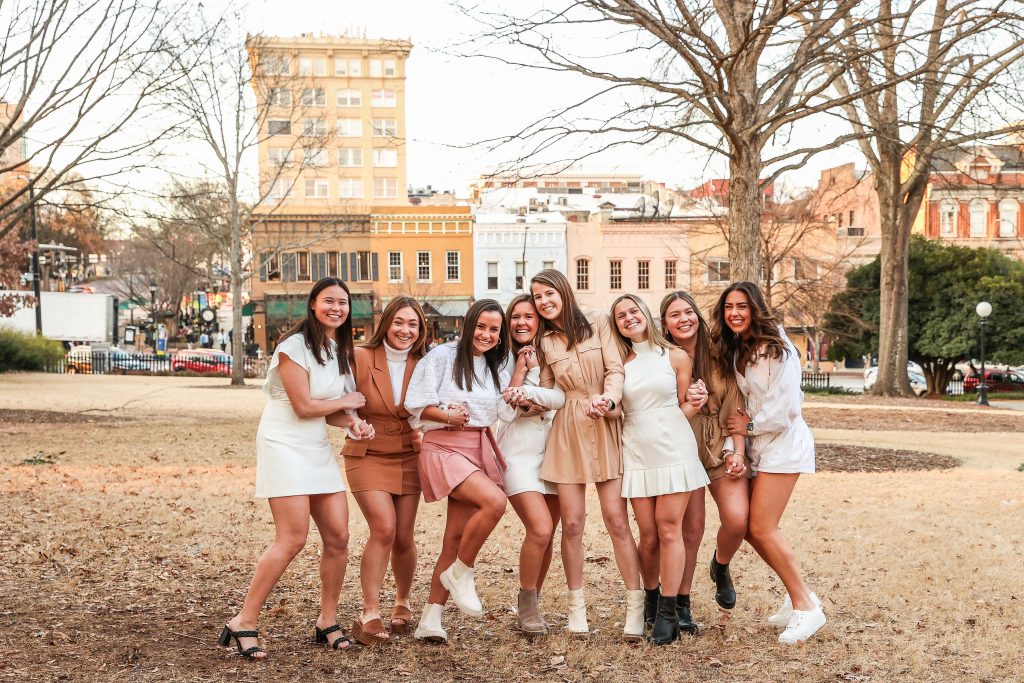 The University of Georgia Panhellenic Council governs the female fraternities and sororities that are members of the National Panhellenic Conference (NPC). It promotes cooperation and cohesiveness within the Greek community, oversees formal recruitment for its member groups, and sponsors community service opportunities, social events and educational programs throughout the year. There are currently 19 Panhellenic chapters recognized at UGA.
Sorority members at UGA have the opportunity to live in beautiful, historic homes within walking distance of campus. Each sorority establishes it own regulations regarding members living in or out of the chapter house. Sororities often require members to live in the sorority house for one year, usually during the second year of membership. Typically, the second-year members live in the house along with the Executive Boards. Potential members should ask each sorority concerning individual requirements for living in or out of the chapter house.
Each sorority employs a full-time live-in House Director. The House Director oversees the daily operations of the chapter house. The sorority houses provide a comfortable and secure environment for the members.
Each sorority establishes house rules including visitation and quiet hours. The possession and consumption of alcohol on sorority property is prohibited. Study halls, dining facilities and workout facilities are a few of the features you will find in some of the sorority houses.  Living in the sorority house is an exceptional value, as the average cost of living in the house (including room, board, meal plan, and dues) can be less than living in UGA residence halls! Sorority houses are truly a "home away from home."
The UGA Greek community strives to attain the highest level of academic achievement possible. By encouraging fraternity and sorority members to be active on campus and keep up their grades, the Greek system is a driving force in helping members live up to their potential. The Panhellenic GPA is consistently above that of the UGA All-Women's GPA. In the Fall semester of 2021, 90% of our 5,685 women achieved a 3.0 GPA or higher. Additionally, the average GPA of our Panhellenic community was a 3.58 compared to the overall UGA undergraduate women's average of a 3.49.  We are very proud of all the hard work our women put into their academic success.
It is important for students and parents to be as informed as possible regarding the costs associated with obtaining a college education. Understanding the financial obligations associated with sorority membership is just as important.
Sorority membership is a contractual agreement. When you join, you assume many financial obligations and it is important to be aware of these obligations and take them into consideration. During fall recruitment, a potential member should ask sorority members about financial obligations and payment options. Each sorority sets its own fees and housing costs as well as the payment schedules.
The first semester of membership if the most expensive due to many one-time fees (house corporation fee, initiation fee, etc.). All sororities are willing to work with their members on an individual basis to create payment plans if necessary. The average cost of New Member Dues is $1,868 for Fall semester.  This average includes what is required. These financial obligations do not include every expense for a member. Additional expenses (t-shirts, photographs from social events, etc.) are in no way mandatory. The cost for members not living in the house averages $1,276 per semester. This includes parlor fees, social fees, and one meal a week at the house. This amount will be the average cost for Spring semester.
The price of living in the sorority house is usually an exceptional value as the average cost of a room, board, and dues can be less than the average cost of living in a typical UGA residence hall and a 5-day meal plan. The average cost for living in the house is $4,359 per semester.  This includes sorority dues, fees, room, board, and the house meal plan.
These averages were gathered from information before Recruitment in 2021. Each chapter provides their specific financial information during formal recruitment orientation.
Average Cost for New Member Semester – $1,868
Average Cost for In-House Member Semester – $4,359
Average Cost for Out-of-House Semester – $1,276
Philanthropy and Service are a huge part of sorority life. Each of our chapters have not only a local philanthropy, but also a national one. Each year individual chapters raise thousands of dollars toward respective philanthropies and chapters support a philanthropic events by holding fundraisers annually. Fundraisers range from canned food drives to road races and fishing tournaments.
You will learn about each of these during recruitment. Greeks also participate in organizations across campus that focus on philanthropy, service, and the community. Just a few are listed below. Click on their name for more information: 
UGA Miracle
UGA Miracle is one of the largest and most widely-known philanthropies on campus and is celebrating their 27th year as a campus organization. They are the in-house philanthropy for Greek Life that raises money for Children's Healthcare of Atlanta. Throughout the year they help raise funds for the Rehabilitation and Orthopedics departments at Children's. Each February they host Dance Marathon, celebrating the patients at Children's and raising even more money. The event lasts a total of 26.2 hours where concerts, inflatable games, and a "morale dance" keep the participants' spirits high throughout the night and throughout the wee hours of the morning. In 2022 they raised a grand total $1,167,175.22!
UGA Student Food Pantry
The UGA Student Food Pantry was established in 2011 by sorority members on the Panhellenic Council. The intention has not changed since its founding: to provide for students in need. Hunger on college campuses has become more of a nationally-recognized problem, and students on the Panhellenic Council wanted to provide a resource for students who, a lot of the time, are spending their money on their college education and have little left over. Each Panhellenic sorority is committed to supporting and supplying the Pantry through volunteer staffing and donations. 
UGA H.E.R.O.S   
The University of Georgia 's Hearts Everywhere Reaching Out (H.E.R.O.) for Children, Inc. is a non-profit organization dedicated to improving the quality of life and of children affected by and infected with HIV/AIDS. H.E.R.O.'s vision is to give these kids a brighter future and better quality of life by helping them overcome the challenges of the disease in their lives through the support of community volunteers. Some of the programs that H.E.R.O. puts on include Film on the Fifty, Hero for a Day, SuperHERO Mentoring Program, and many others. 
Relay for Life 
Relay for Life is an organization on campus which rallies to celebrate cancer survivors, to remember those who have passed away, and to raise money to fight to eliminate cancer. Their fundraising events include date actions and benefit concerts; however, their main event is a 24-hour walk around the UGA Track. Each year, students, faculty, and families participate in this inspirational event with proceeds benefiting the American Cancer Society. Teams set up tents to camp out and can enjoy live entertainment and games throughout the evening.