2021 PANHELLENIC EXECUTIVE COUNcil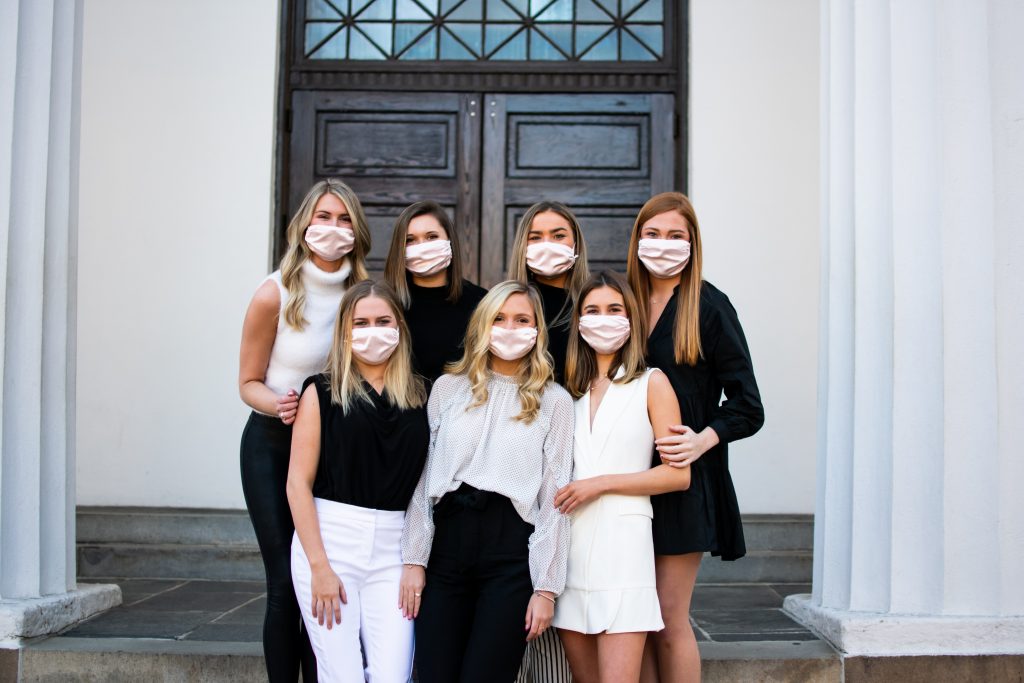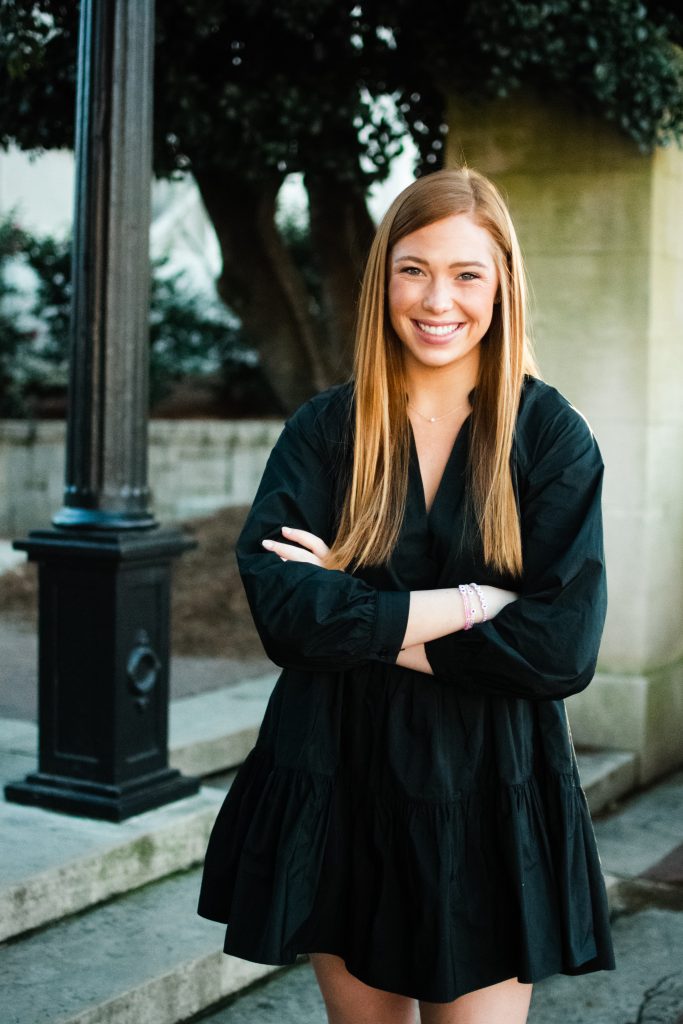 Mary Evelyn Brock is a third year from Gainesville, GA who loves any and all water activities including wake surfing and wakeboarding. Earning her degree in advertising, Mary Evelyn plans to attend law school post-grad where she will pursue a career as an attorney. Mary Evelyn has served the Panhellenic Council since her freshman year as an assistant delegate for Alpha Delta Pi, delegate for Alpha Delta Pi, Director of Communications, Recruitment Counselor and currently serving as the Panhellenic President. She also served as a representative for College Moxie – a women's empowerment group, a staff member for a previous SGA ticket, and has served many times at the Boys and Girls Club. If she isn't at the lake, you can find her in Athens walking downtown with friends or keeping everyone straight in the GLO. If you can't spot her, look for a trucker hat and fun studs – her go-to accessories! 
As President of the Panhellenic council, Mary Evelyn oversees day to day operations, her entire executive team and serves as a resource to all chapter presidents. She also serves as a liaison between UGA administration and the Panhellenic community. This year Mary Evelyn says she is looking forward to building and strengthening relationships within both the Panhellenic community and the entire Greek Life Community. Mary Evelyn is eager to see what all can be accomplished within the Panhellenic Community, Greek Community, and UGA community over the next year.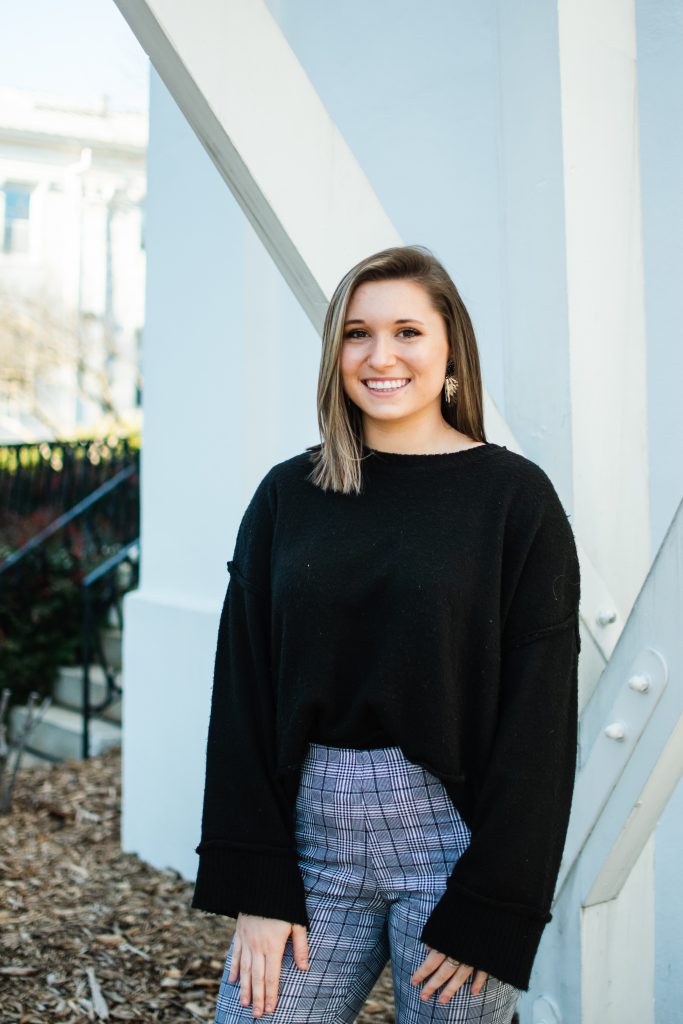 Kendall Kelley is a junior from Blacksburg, VA earning a major in Mechanical Engineering with a minor in Computer Science. Upon graduating from UGA, Kendall plans to attend grad school and eventually work in research and development for biomedical devices. Since her first semester at UGA, Kendall began serving as Junior Panhellenic Delegate for Sigma Kappa, followed by Assistant Panhellenic Delegate Panhellenic Delegate, Scholarship & Outreach Committee Director, a Recruitment Counselor, and currently the Vice President of Finance & Correspondence. Aside from this time spent serving the Panhellenic Community, Kendall has been a part of the Family Relations committee for UGA Miracle, worked as an undergraduate research assistant as well as a peer learning assistant in the College of Engineering. She takes a break from her busy schedule by staying active – running, hiking, walking, lifting, biking, you name it, she loves it all! You can always spot her running down Milledge or through campus. Kendall admits her second love is her coffee addiction – she helps keep all the local Athens coffee shops in business! 
As Vice President of Finance and Correspondence, Kendall oversees all financials of the Panhellenic Council.  She creates and upkeeps the semester budgets for the Council, as well as assists in any financial decisions for the other executive members.  Additionally, she ensures the communication line between the council and each chapter is open by distributing minutes and emails each week keeping everyone in the know!  Kendall says she is so excited for this opportunity to give back to the community that has given me so much, and can't wait to see what this year will bring.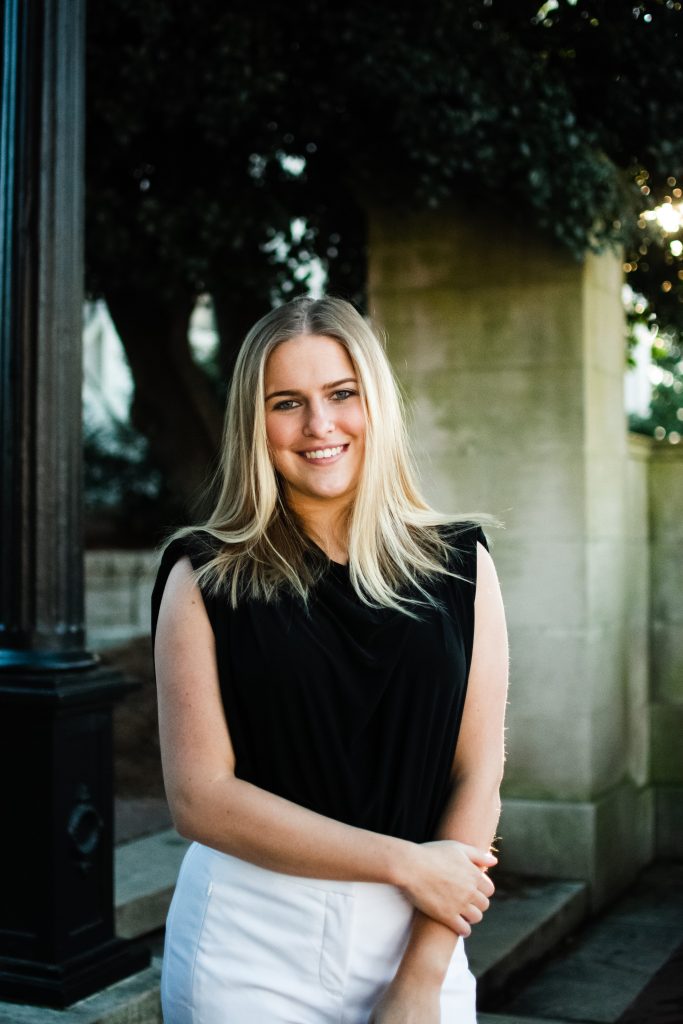 Grace Daigre is a third year student from Houston, TX majoring in International Affairs with a minor in Spanish. Post-grad she hopes to get an internship in Europe for a year, followed by attending law school with intent of becoming an International Human Rights Lawyer. Grace loves to be involved in any way possible and she is passionate about service to others. This past year, she served as Chi Omega's Recruitment Events Chairman, as well as their Ritual Chairman. Grace has also spent time as a member of Whatever it Takes and Special Olympics here at UGA. Nevertheless, she finds time to do all the things she loves – being outdoors, finding new restaurants around Athens, spending time with her friends and family, and binge watching a Netflix Original series. 
As Panhellenic Vice President of Recruitment, Grace oversees the recruitment process for all 19 Panhellenic sororities and helps potential new members throughout the recruitment process. She states her biggest goal this year is that every potential new member feels accepted, included, and loved for who they are as they find their forever home. Furthermore, she hopes that every active member is able to provide a welcoming and positive experience for everyone participating. Grace exclaimed she is so excited for this opportunity, and she can't wait to see what this year has to offer!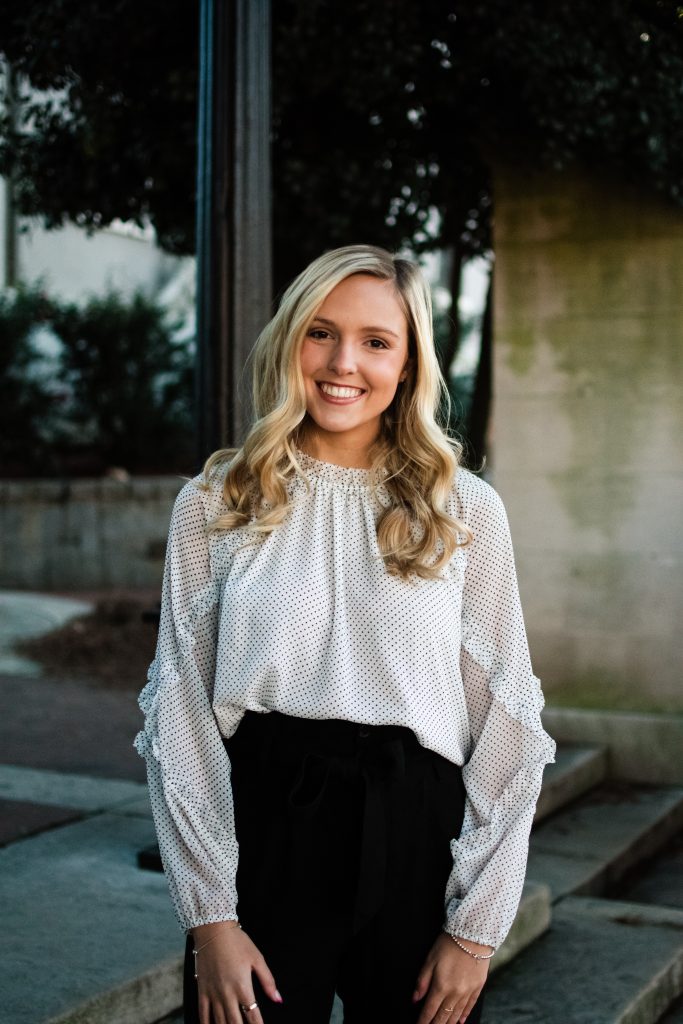 Weslie Anne Wernick is in her third year studying Biology and Psychology with plans to attend medical school and pursue her dreams of becoming a surgeon. 
When Wesli Anne isn't busy studying for the MCAT, you can catch her eating at Taqueria Del Sol or getting coffee at any nearby Starbucks! Aside from being involved with the Panhellenic Executive Board, Wesli Anne has served as the Director of Junior Panhellenic to the Panhellenic Council, on the Alpha Omicron Pi Leadership Council, is currently an undergraduate research assistant for the UGA Health and Development Lab, and has worked passionately with her family's non-profit, S.L.I.M.S, a mission school in Sierra Leone, West Africa. Wesli Anne states that UGA Panhellenic has given her more than she ever expected and being able to give back and serve this incredible community has already been such an amazing experience!
As Vice President of Administration for the Panhellenic Executive Board, Wesli Anne oversees and spearheads the programming efforts for the Panhellenic community as well as work with and help lead our Panhellenic Council Committees. There are six different committees within the Panhellenic Council which include: Campus and Community Involvement, Communications, Junior Panhellenic, Programming, Student Panty, and Scholarship and Outreach. Each of these committees is composed of a director and committees members from the Panhellenic Delegates and Assistant Delegates of all 19 chapters we have here at UGA. Each committee has a unique role, but are all united in the work to serve, inspire, and unite our Panhellenic community! Wesli Anne exclaims that it is an honor and a blessing to get to serve in this role!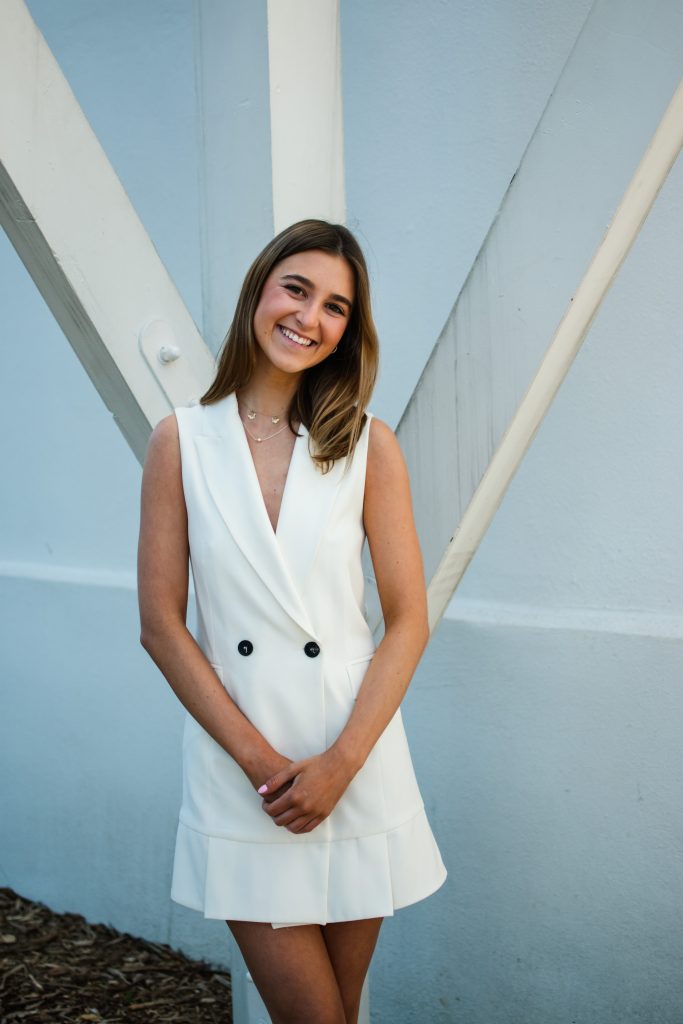 Vice President of Recruitment Counselors
vprc@uga.edu
Erin Johnson is from Fort Worth, TX. She is a third-year advertising major with minors in business and fashion merchandising, as well as a certificate in entrepreneurship. Erin loves reading, fashion, and being creative in any way possible. In Athens, you can find her riding bikes by the Intramural Fields, and grabbing lunch with friends at Ted's. Erin has served as the Involvement Chair for Kappa Kappa Gamma, as well as a Recruitment Counselor for Panhellenic. Outside of these roles, she has been on committees for UGA Miracle, UGA Relay for Life and a campus representative for Camp Ozark. Erin states how much she truly loves this community and the way everyone supports one another, and she is thrilled to be giving back through her work on the Panhellenic Council. 
As Vice President of Recruitment Counselors, Erin leads, trains, and manages 121 recruitment counselors that will carry out the formal recruitment process. These women play an integral role in making each potential new member feel at home at UGA. Erin's goal is that recruitment counselors will make lasting friendships with their PNMs and each other, and that they will also be leaders in encouraging Panhellenic unity. Erin is so thrilled to have this opportunity to make an impact in the Panhellenic community!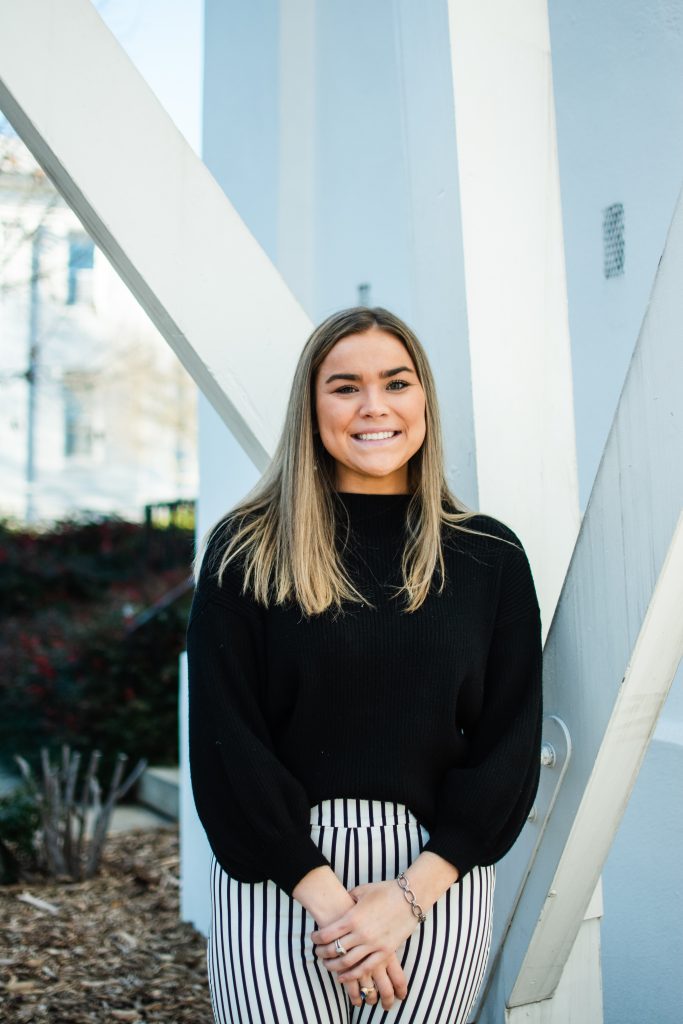 Vice President of Standards
Payton Maxheimer is a third-year from Savannah, Georgia majoring in Environmental Health Sciences with the intent of attending law school upon graduation. Throughout her time at UGA, Payton has been involved in many things, such as serving as the Panhellenic Delegate for Delta Delta Delta, being the Director of Campus and Community Involvement for Panhellenic, and joined multiple on-campus clubs. Payton loves to read and going on any adventure ever. Being from the coast she especially loves all things beach and being outdoors! When she's in Athens, you can be sure to find Payton studying at the Science Library or at Taq Del Sol getting dinner with friends.
As Vice President of Panhellenic Standards, Payton oversees all things which encompass the bylaws, judicial processes, risk management, DEI, and scholarship. Payton serves as a resource to all 19 chapters in educating them on these matters. She has recently been working to update our University's Panhellenic bylaws and recruitment rules, as well as serving on the Greek Life Office's Diversity, Equity, and Inclusion Committee. Payton says her biggest goal for this term is to make sure that Panhellenic is a more inclusive and well-rounded community than ever before. She is so excited to see what this year brings and to be able to give back to the community that has given me so much!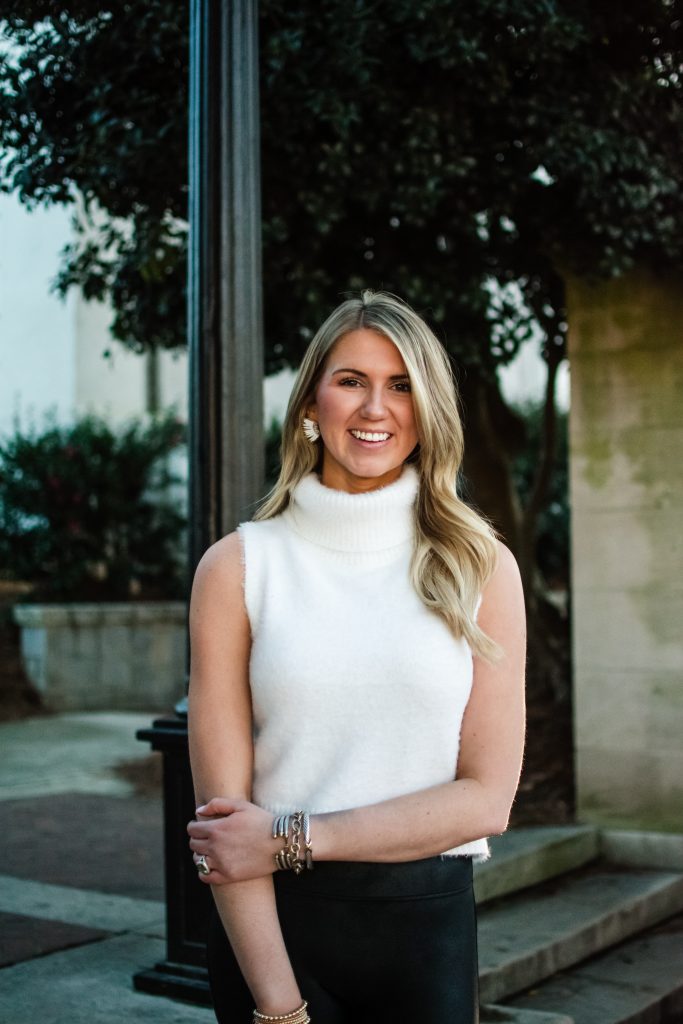 Grace Hannah Cason is a third year from Statesboro, GA majoring in Biological Sciences with a minor in Biology. Following her time at UGA, she plans to attend dental school to pursue a career in the field of dentistry. Grace Hannah began her involvement with the Panhellenic Council during her freshman year as a Junior Panhellenic Delegate, followed by serving as Assistant Delegate, Panhellenic Delegate and Director of Programming, and staying the course to currently serve as Vice President of Public Relations. Aside from these roles within the Council, she has served Phi Mu holding a position on their Executive Board and an Appointed Position in their chapter, was a part of the Alumni & Parent Relations Committee for UGA Miracle, and is currently involved in the Pre-Dental Society of UGA. When she isn't making a graphic for the Panhellenic Instagram, you can find her shopping downtown at Dukes, grabbing a bite with friends, or going to 9round. Grace Hannah is looking forward to serving and growing with a community that has provided her so much more than she could have bargained for here at UGA. 
As Vice President of Public Relations, Grace Hannah deals with all media aspects regarding the Panhellenic Council. Social media platforms are used to promote Panhellenic and Greek accomplishments, connect chapters, and ensure accessibility of the council to the entire community. Another main role is creating and distributing "The Pointer" which is the PNMs primary formal recruitment guide. Grace Hannah is incredibly grateful to be in this position and is thankful for everyone who helped her get here!