DIVERSITY, EQUITY, AND INCLUSION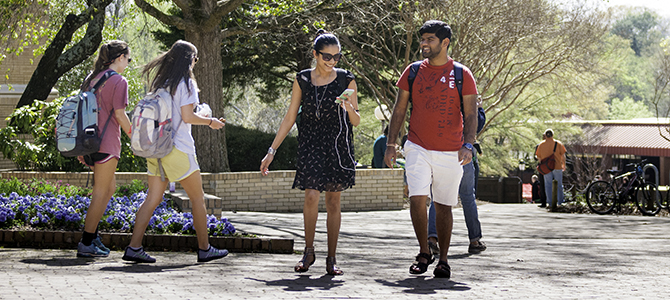 As one of the largest communities of students within the University, the UGA Greek Life Office strives to provide opportunities to better represent the diversity of students on our campus.
Below are of some of the ways our office is working towards our goals.
Committee on Diversity, Equity, and Inclusion in Greek Life
In light of their May 30th, 2020 Statement Brennan Cox, President of the Interfraternity Council; Allison Doherty, Executive Director of UGA Miracle; Anusha Khan, President of the Multicultural Greek Council; Justin Nixon, President of the National Pan-Hellenic Council; and Jennings Brooks, President of the Panhellenic Council, alongside Joshua Welch, Director of Greek Life, have established a permanent Committee on Diversity, Equity, and Inclusion in Greek Life at the University of Georgia. 
The Committee, composed of both faculty and students, is charged with "acknowledging and examining Greek Life in past and present, understanding the current demographics within fraternities and sororities as well as the membership experiences therein, developing and implementing a Diversity, Equity, and Inclusion vision for Greek Life at the university in perpetuity, therefore setting a new precedent for Greek Life and its relation to the University at-large". 
The Committee will conduct its important work in a transparent fashion, welcoming and engaging with suggestions from members of the Greek Life community as well as the University community-at-large. Further information on the Committee and updates will be provided on this site and through community-wide updates at business meetings of the respective Councils (IFC, MGC, NPHC, Panhellenic) and Organizations (UGA Miracle) represented within the Greek Life Office. 
Each calendar year we begin with a joint IFC, MGC, NPHC, and Panhellenic retreat. This is a time that our new council officers get to know each other and learn about the workings and culture of each council and its member organizations. Connections that are made during this meeting continue through commitments to participate in an event or activity together each month to further relationship development.
 
All Council officers have participated in a variety of events – Panhellenic, NPHC, and IFC officers judged MGC's cultural showcase as well as Sigma Beta Rho's pageant.
 
In Fall 2019, Greek Life hosted a joint president dinner for all chapter presidents from all four Greek Councils.
Evaluation of Social Event Themes and Student-Led Action
Meetings are called to address behavioral expectations and standards for UGA Greeks and requested a thorough evaluation of all activities and events to ensure the appropriateness. All fraternity and sorority presidents are in attendance from all 4 councils.
For example:
In early 2015, student leaders came together for a robust, open, and honest conversation to strengthen and refocus efforts on building community and enhancing the learning experience for our student members. We strive to ensure that the Greek experience at UGA is productive, positive and in-line with the quality of the education we are receiving at UGA. A standard aspect of event-planning for Greek organizations is that costuming for events must be evaluated as to its appropriateness. The student leadership, staff and advisors agree that Antebellum hoop skirts are not appropriate in the context of some events. We will continue to review costuming and themes for future events to ensure their appropriateness for our organizations. We express our appreciation to our fellow members for their leadership on campus and in the community.
Sigma Nu sponsored a chapter diversity workshop presented by Barry Callendar, and invited several fraternity presidents to attend. Panhellenic Exec also attended.
 
UGA Faculty and staff members provide diversity presentations to our Greek Life community.
 
During Summer Orientation, we will begin our individual orientation sessions with one session focusing on Greek membership being open to all.
 
Chapters and organizations host and support a number of educational workshops and seminars to include topics such as Diversity, Equity, and Inclusion. These programs are sometimes opened to all of campus or geared specifically to organization members.