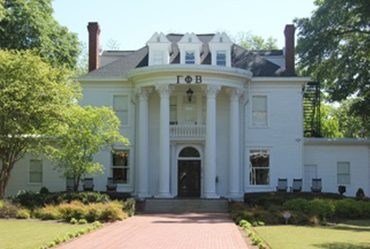 Gamma Phi Beta was founded in 1874 at Syracuse University. Gamma Phi's motto, "Founded Upon a Rock", is representative of the principles of love, labor, learning and loyalty upon which the sorority was built. Gamma Phis strive to inspire the highest type of womanhood through community service, academic achievement, and commitment to sisterhood.
In addition to their sorority activities, Gamma Phis are involved in seemingly every facet of life at the University of Georgia. The sisters of the Delta Upsilon chapter are devoted to the University, the Athens-area community, and to each other. Gamma Phis are involved in a multitude of on-campus organizations, including Student Government Association, Georgia Recruitment Team, UGA Miracle, HEROs, and Relay for Life. They can be found supporting UGA Athletics as Dance Dawgs and Georgettes or supporting the future of the university as Orientation Leaders and Tour Guide Leaders. Gamma Phis have been recognized for achieving academic excellence by organizations such as Tate Society, Order of Omega, Foundation Fellows, Ramsey Scholars, and Leonard Leadership Scholars.
The sisters of Gamma Phi Beta are dedicated to both local and national philanthropy. Each fall, Gamma Phi hosts "Grilled Cheese with the GPhiB's," and in the spring, their annual volleyball competition "Moonball," both benefitting their philanthropy, Girls on the Run. This organization strives to build strong girls through mentoring, health promotion, and positive self-image programs. Gamma Phis also support the local chapter of Girls on the Run by serving as mentors and coaches in preparation for an annual 5K.
The sisters of Gamma Phi Beta welcome you to UGA, and wish you the best of luck during Recruitment!
Gamma Phi Beta
397 S. Milledge Ave
Athens, GA 30605
Nickname: Gamma Phi
Natonal Founding: Syracuse University, November 11, 1874
Colors: Pink and White
Flower: Pink Carnation
Symbol: Crescent Moon
Magazine: The Crescent
Mascot: White Harp Seal