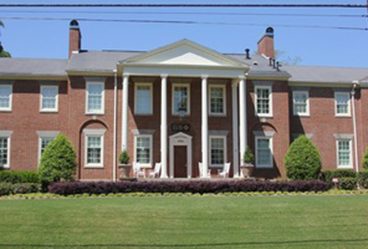 The first national organization for women, Pi Beta Phi, was founded in 1867 at Monmouth College. UGA's Georgia Alpha Chapter was established in 1939 and is one of 200 chapters.
Pi Phi's symbol, the arrow, is always pointed upward and worn over the heart to represent Pi Phi's permanent place in a member's heart.
Pi Beta Phi hosts annual philanthropic events, such as Pi Phi Phiesta and Hoops and Halos, to raise money for its philanthropy, the Pi Beta Phi Foundation. The Pi Beta Phi Foundation promotes literacy through Read > Lead > Achieve initiatives and provides scholarships to those in need. These Read > Lead > Achieve initiatives include Books for Brittany, dedicated to honor Brittany Feldman who passed away in a car accident her sophomore year. Pi Phi is also a partner in education with Alps Road Elementary school in Athens where members tutor students regularly.
Some activities in which Pi Phi's are involved include UGAMiracle, Order of Omega Honors Society, UGA Judiciary, Greek Life Ambassadors, UGA Relay, UGA HEROs, Diamond Darlings for UGA Baseball, Leonard Leadership Fellows, Match Mates for UGA Tennis, and Student Government Association.
The mission of Pi Beta Phi is to promote friendship, develop women of intellect and integrity, cultivate leadership potential, and enrich lives through community service. There is an unmatched level of integrity, commitment to excellence, and a general aura of potential that sets a Pi Phi apart from the rest. That's because she is a member of a premier organization with a history steeped in tradition. The ideals set forth by their founders are what they live by today.
Pi Beta Phi hopes you have a fantastic experience at UGA and looks forward to meeting you!
Pi Beta Phi
886 S. Milledge Ave.
Athens, GA 30605
Nickname: Pi Phi
Natonal Founding: Monmouth College, April 28, 1867
Colors: Wine and Silver Blue
Flower: Wine Carnation
Symbol: Arrow
Magazine: The Arrow
Mascot: Angel