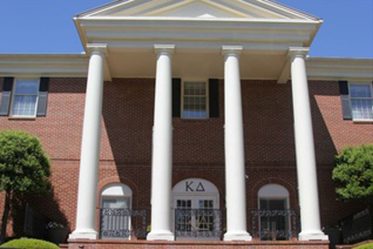 "Let us strive for that which is honorable, beautiful and highest."
Kappa Delta was founded in Farmville, Virginia in 1897, and the Sigma Phi Chapter was installed at UGA on March 22, 1924. National, the objective of the sorority is the foundation and perpetuation of good fellowship, friendship, and sisterly love among its members, the encouragement of literature and education, the promotion of social interest, and the furtherance of charitable and benevolent purposes.
Kappa Deltas find pride in their sisterhood through a combination of leadership, involvement, and love for each other. KD encourages scholarship, community service, and campus involvement. Members of Kappa Delta's hold positions in numerous organizations such as Orientation Leaders, Georgia Spirit Program, Georgia Recruitment Team, UGA Hero, UGA Miracle, Relay for Life, Tate Society, Order of Omega, Student Government Association, Grady NewsSource, Dawg Camp, Georgia Gameday, Hoop Girls, Diamond Darlings, Match Mates, Deck Dawgs, and many other noteworthy organizations.
Kappa Delta is very involved in supporting local philanthropies: the Athens Council of Prevent Child Abuse and local Girl Scout troops. Our chapter hosts events for local Girl Scout troops three times each semester during which we promote recognizing inner beauty and Kappa Delta's Confidence Coalition.
Nationwide each chapter of Kappa Delta is granted their choice of local philanthropic Shamrock Events. Each year, Sigma Phi chapter hosts a 5K-road race, known as the 5KD. Sigma Phi also hosts an All-You-Can-Eat Waffle House dinner at the Kappa Delta house. All of the proceeds from this event benefit Prevent Child Abuse American and Prevent Child Abuse Athens. While we host events throughout the year to raise money for both local and national charities, our sisters feel that the most rewarding aspect of our philanthropies is that we have the opportunity to make a difference by interacting hands-on with the families our philanthropies support.
The Kappa Delta house is the only sorority house at UGA that is structured as one main house and 19 furnished apartments. The apartments enclose a beautiful courtyard where our sisters enjoy spending time together. Kappa Delta welcomes you to UGA and wishes you the best of luck during Recruitment!
Kappa Delta
750 S. Milledge Ave.
Athens, GA 30605
Nickname: KD
Natonal Founding: Longwood College, October 23, 1897
Colors: Olive Green and Pearl White
Flower: White Rose
Symbol: Nautilus Shell
Magazine: The Angelos
Mascot: Teddy Bear