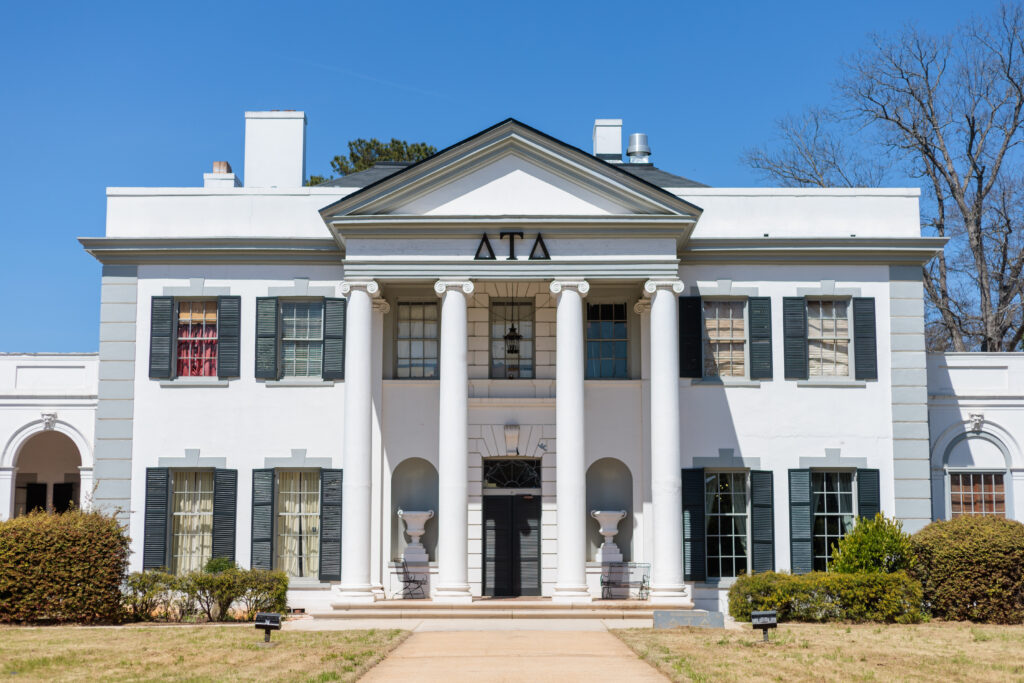 Nickname: Delt
National Founding: 1858
Local Founding: 1882
Chapter Address: 1084 Prince Ave.
National Website: https://www.delts.org/
Founded at Bethany College in Virginia in 1858, Delta Tau Delta is one of the nation's largest and oldest Social Fraternities. Our Beta Delta Chapter at the University of Georgia was founded in 1882, making us the seventh oldest Fraternity on Campus.

Since the founding of our fraternity, the brothers of Delta Tau Delta have focused on upholding the values of brotherhood, leadership, academics, and service. Our very strong and active alumni provide Beta Delta with priceless resources. The largest building on campus, the Tate Center, and the Dean-Tate Society were both named after our Alumnus, Dean William Tate, a true representation of our gentleman traditions and values. The Delts also actively participate in intramurals, last year going to the final four in Basketball and winning the Softball All Campus League Championship for two consecutive years. Our chapter prides itself as an academic leader in the Fraternity World where we continually finish each semester with one of the highest GPAs at the University of Georgia.

Our chapter encourages giving back to the Athens community, providing numerous opportunities for our members to do so. We actively participate in an "Adopt – a – School" program at the local Chase Street Elementary School and raise thousands of dollars each year for the Children's Miracle Network. We have a very diverse brotherhood with brothers ranging from all parts of the country, including numerous from Texas, Connecticut, South Carolina, North Carolina, Minnesota, Massachusetts, Pennsylvania, Delaware, and Alabama. We have brothers involved in Order of Omega, Greek Ambassadors, HERO for Children, UGA Miracle, Campus Crusades for Christ, Blue Key, Arch Society, the Georgia Football, Hockey, and Lacrosse teams, and the Dean-Tate Society. Finally, The Delts have a full social calendar filled with many socials, band parties, tailgates before football games, date nights, and an annual Beach Weekend in Panama City, Mountain Weekend in Dillard, and Spring Formal in Savannah.

A strong social calendar, involvement on campus, committed brotherhood and focus on academics all combine to make The Delts are one of the top fraternity's on campus.
Contact Information
President, Shawn Powers – ShawnPJr99@gmail.com