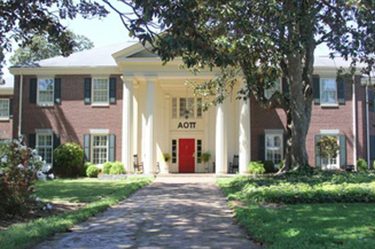 Founded in New York by four accomplished women, Alpha Omicron Pi has expanded to 109 chapters. The Lambda Sigma chapter, chartered in 1935, stands to uphold the high standards of academic excellence, leadership, involvement and genuine friendships. AOII takes great pride in academics and consistently holds one of the highest grade point averages among all of the sororities. Members participate in the UGA honors program, Order of Omega, Tate Society, Foundation Fellows, and has ambassadors in many colleges here at the university.

Leadership is also a high priority to members of AOII. AOII is represented on the executive boards of ugaMIRACLE, HEROS, Relay for Life, CURE UGA, and Roteract. Members are active in the Arch Society, Welsey Leadership, Crossroads, and Young Life.

Perhaps most characteristic of the chapter is its deep involvement in campus organizations. AOII is represented in the Red and Black Newspaper, Dawg Camp, Georgia Recruitment Team, Student Government Association, and the Visitors Center. Members have active roles in UGA Athletics on the Track Team, Cheerleaders, Dance Dawgs, Georgettes, and Club Lacrosse and Soccer. AOII's have been honored as the 2006, 2008, and 2011 Homecoming Queens, 2011 SGA President, 2009 and 2010 UGA Idols, and multiple Orientation Leaders.

With a passion for our national philanthropy the Juvenile Arthritis Foundation, the Chapter puts on an annual 5K "Run for the Roses." As a top sorority in community service, AOII's love taking time to get involved in the community volunteering for Athens Regional Hospital , YMCA, Habitat for Humanity, as well as mentoring and coaching at local schools.
A visible characteristic of this group of women is their sincere ability to remain honest and true to themselves. Girls with a diversity of interests and backgrounds come from hometowns all over the country to share a wonderful four years together at UGA. We warmly welcome you to the University of Georgia and hope you enjoy Recruitment! GO DAWGS!

Alpha Omicron Pi
1190 S. Milledge Ave.
Athens, GA 30605

Nickname: AOII
National Founding: Barnard College of Columbia University, January 2, 1897
Colors: Cardinal
Flower: Jacqueminot
Symbol: Ruby
Magazine: To Dragma
Mascot: Panda Bear

National Website
Chapter Website