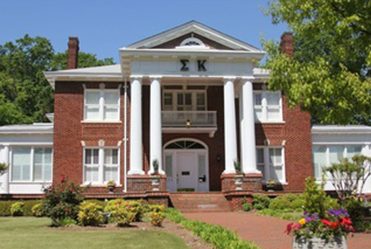 "Live with Heart"
When Sigma Kappa was established in 1874, our five founders envisioned an organization built on sisterhood, scholarship and personal growth. Today Sigma Kappa has more than 121 collegiate chapters and 172,000 members worldwide. Since Sigma Kappa's colonization at The University of Georgia in 1964, our chapter has continued to provide women with the opportunity for a lifelong sisterhood based on social, intellectual and spiritual development and to positively impact the UGA campus and local community.
Our members strive to achieve personal growth by having a well-rounded presence on the UGA campus in organizations like Order of Omega, the Arch Society, the Tate Society, and various Honors programs. Sigma Kappa values scholarship, and is proud to consistently have women recognized on Dean's List and as Presidential Scholars! Sigma Kappa is represented in UGA Cheerleading, Dance Dawgs, Red Hotz, and many intramural sports.
We seek women who can be involved members of Sigma Kappa while extending their talents to other organizations as well. Sigma Kappas serve as leaders on campus, with our members holding executive roles in organization such as UGA Miracle, UGA Relay for Life, UGA HEROes, Camp Kesem, and the local chapter of The Alzheimer's Association.
Sigma Kappa members increase their friendship and loyalty by bonding over many exciting social activities throughout the year, but also by working together to promote our national philanthropy, The Alzheimer's Association. Each year our sisters participate in the local Alzheimer's Walk, and we are proud that since 1989 the Sigma Kappa Foundation has granted more than $3 million in research to find a cure for this disease.
Sigma Kappa welcomes you to UGA and wishes you an amazing Recruitment!

Sigma Kappa
654 S. Milledge Ave.
Athens, GA 30605

Nickname: Sigma K
Natonal Founding: Colby College, November 9, 1874
Colors: Lavender and Maroon
Flower: Violet
Symbol: Dove and Pearl
Magazine: Sigma Kappa Triangle
Mascot: Snake

National Website
Chapter Website