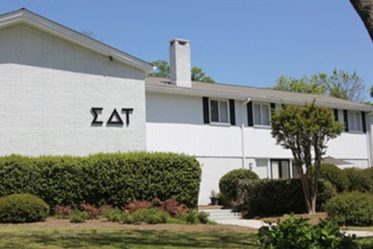 Sigma Delta Tau was founded on March 25, 1917 at Cornell University in Ithaca, New York and has grown to include more than 105 college campuses across the United States and Canada. The Eta chapter was chartered at the University of Georgia on April 6, 1924. The mission of Sigma Delta Tau is to enrich the college experience of women of similar ideals, to build lasting friendships, and to foster personal growth.
On campus, our sisters hold leadership roles in a range of organizations, including Shop with a Bulldawg, UGA Miracle, The Backpack Project, and Food2Kids. Members of SDT are also involved in SGA, Relay For Life, HEROS, The Red and Black, to name a few. The Eta chapter has a strong work ethic and repeatedly holds the highest chapter grade point average.
In addition to campus activities, Sigma Delta Tau contributes to multiple philanthropies. Each year, the Eta chapter looks forward to its signature event, SDT Greek Grind, the largest Greek philanthropy on campus. This highly anticipated event is a dance competition among all Panhellenic sororities on campus that raises money for Prevent Child Abuse America. Each year we take this event to a new level, expanding to a larger audience and raising more money for this great cause. SDT also hosts a Spring Philanthropy called Eat Your Heart Out, which supports a local philanthropy chosen each year. The Eta chapter shares a close sisterhood and takes pride in its academic, social, and philanthropic endeavors.

Sigma Delta Tau welcomes you to Athens and hopes you have a wonderful Recruitment!
Sigma Delta Tau
525 Bloomfield St.
Athens, GA 30605
Nickname: SDT
Natonal Founding: Cornell University, March 25, 1917
Colors: Cafe Au Lait and Old Blue
Flower: Golden Tea Rose
Symbol: Torch
Magazine: The Torch
Mascot: Teddy Bear