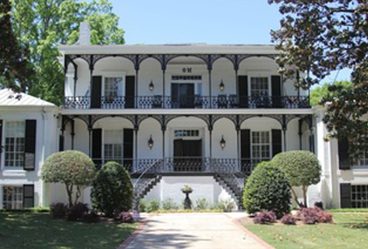 Phi Mu was originally founded as the Philomathean Society at Wesleyan College in Macon, GA on March 4, 1852. For several years around the turn of the century, there were discussions about becoming a national organization, and in 1900 the organization adopted the Greek name "Phi Mu" symbolizing the Society's secret motto. In 1903 the national chapter was received by the state of Georgia, and the original membership became the first chapter of Phi Mu. The open motto for Phi Mu is "Les Soeurs Fideles" meaning "The Faithful Sisters." The Alpha Alpha chapter of Phi Mu at the University of Georgia was founded as the first sorority at UGA on April 28, 1921.
Members of Phi Mu distinguish themselves through their commitment to leadership, philanthropy, community involvement, and loyalty to one another. Phi Mu's National philanthropy is Children's Miracle Network Hospitals, translated as UGAMiracle on campus. To benefit this organization, Phi Mu hosts annual "Meal on the Lawn"s in both the fall and spring. Members of Phi Mu also participate in UGAMiracle's 24-hour Dance Marathon, serving as Executive Board members, Committee leads, Committee members and Team Members. During the 2021-2022 school year, Phi Mu alone raised $220,154 for this cause! When you visit Phi Mu, you will experience the passion, enthusiasm and support Phi Mus continuously offer each other and their surrounding community.
The members of Phi Mu welcome you to Sorority Recruitment at the University of Georgia and cannot wait to meet you soon!
Phi Mu
250 S. Milledge Ave.
Athens, GA 30605
Nickname: Phi Mu
Natonal Founding: Wesleyan College, March 4, 1852
Colors: Rose and White
Flower: Rose Carnation
Symbol: Lion
Magazine: The Aglaia
Local Mascot: Ladybug