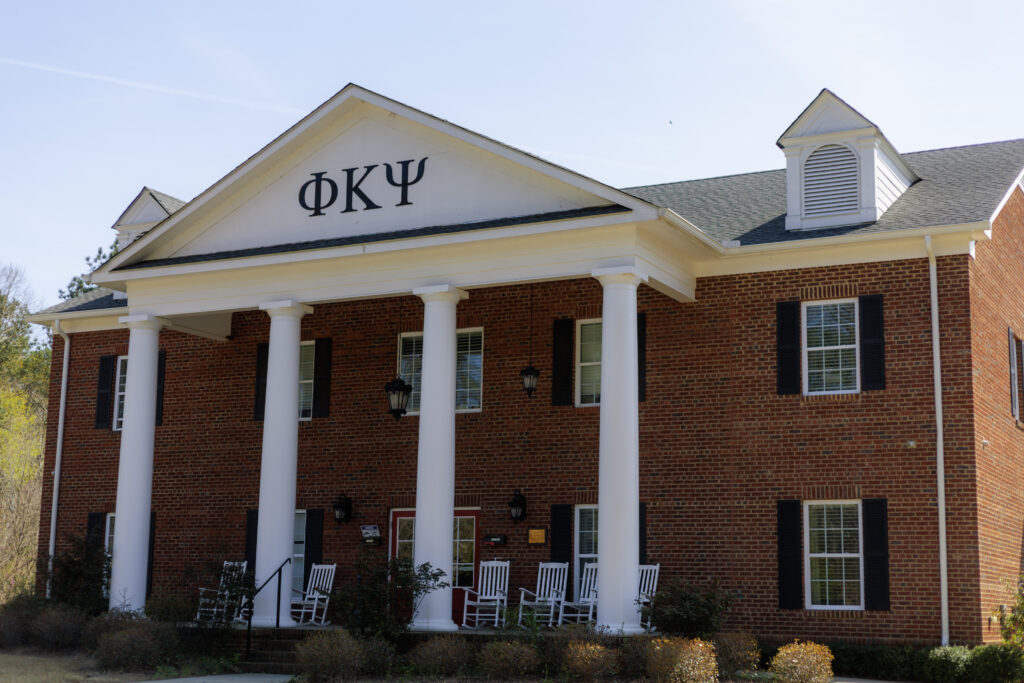 Nickname: Phi Psi
National Founding: February 19, 1852
Local Founding: 1876
Chapter Address: 250 Carriage Ln.
National Website: https://www.phikappapsi.org/
During a freezing February in 1852 at Jefferson College, Pennsylvania, two students decided to treat their fellow classmates and alleviate a typhoid epidemic that was ravaging the school, and the Phi Kappa Psi Fraternity was born. We at the Georgia Alpha chapter honor our founding principle of "The Great Joy of Serving Others" by participating in various philanthropic and service events throughout the year, including Comedy For a Cause to benefit UGA Wishmakers, our annual post-Frat Beach beach cleanup, and our Safe Driving pledge-signing campaign.
Our brothers enjoy an active social calendar including sorority socials, tailgates, creative date nights, and band parties, in addition to our annual Beach Weekend – one of the only out-of-town Fall Semi-Formals on campus – and our annual Jacqueminot Rose Ball in the spring. We are known to get festive during the fall semester with our Halloween and Christmas parties. Our annual spring party is Phi Psichedelic, an eclectic EDM rave that features a lineup of professional DJs.
Our new fraternity house boasts one of the most comfortable living situations in the Athens area, along with a surrounding 6 acres of land – the most owned by any fraternity in the Southeast – and easy access to East Campus via a greenway walking trail.
Leadership is one of the main focuses of the culture of Georgia Alpha, with brothers involved in campus organizations such as IFC, Relay for Life, UGA HEROs, UGA Miracle, ROTC and Varsity Baseball. Joining Phi Psi will provide you with the unique experience of being able become a leader almost immediately following initiation; a number of our officers and committee chairmen earned their roles within their first year with the fraternity.
Contact Information
President, Taylor Litteral – Taylor.Litteral@uga.edu