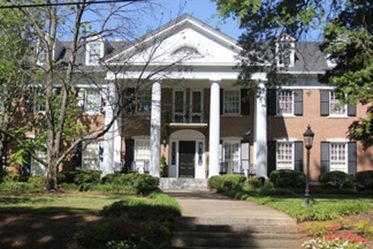 When Kappa Kappa Gamma was founded at Illinois' Monmouth College, the blues of the sky and the sea were chosen to represent their sisterhood. Since October 13, 1870, members of Kappa Kappa Gamma have worked to improve upon the principles that the six founding sisters set before them.
The fraternity badge is a golden key one inch in length, plain or jeweled, with the Greek letters Kappa Kappa Gamma on the stem and the letters Alpha Omega Omicron on the ward. Minerva with her owl is the patron goddess of Kappa Kappa Gamma. The coat of arms also incorporates the various fraternity symbols. The Delta Upsilon chapter of Kappa Kappa Gamma was founded on February 14, 1948 at UGA.
The Kappas have hosted both a "Biscuit Drive" and their annual Krawfish Boil event to raise money for both their local philanthropies, Books for Kids, and the National Alliance for Mental Health. Kappa women are at home here, but their roots are in as many places ranging from Georgia to Oklahoma! Members of Kappa are involved in a variety of activities and various student organizations on campus. Nationally, Kappa has grown to include 141 chapters and approximately 200,000 initiates
Kappa Kappa Gamma wants every member throughout life to seek bonds of friendship, mutual support, opportunity for self growth, respect for intellectual development and an understanding and allegiance to positive ethical principals.
Kappa welcomes you to Sorority Recruitment at the University of Georgia and can't wait to meet you!
Kappa Kappa Gamma
440 S. Milledge Ave.
Athens, GA 30605
Nickname: Kappa
Natonal Founding: Monmouth College, October 13, 1870
Colors: Light Blue and Dark Blue
Flower: Fleur-de-lis
Symbol: Key
Magazine: The Key
Mascot: Owl