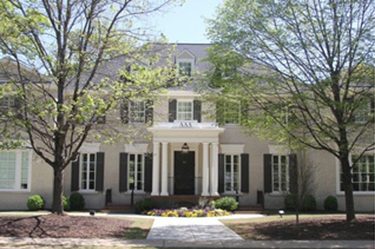 Founded at Boston University in 1888, Delta Delta Delta embodies the ideals of truth, self-sacrifice and friendship. The stars and crescent, the badge of Tri Delta, serves as a reminder to the sisters that they can reach great heights. In Tri Delta, a woman will find the support she needs to set and accomplish many goals. The Alpha Rho chapter of Tri Delta has been a member of the Greek community at UGA for more than 75 years.

Tri Delta stresses the importance of both academics and extracurricular activities. Members are leaders in a variety of activities including the Student Government Association, Georgia Recruitment Team, Match Mates, Deck Dawgs, University Judiciary, and Rotaract. Tri Deltas also participate in athletics such as cheerleading, tennis and the Gymdogs. In the past, Tri Deltas have been honored as Homecoming Queen and Miss UGA. Members also value academic achievement and have been honored with membership in groups such as Mortar Board, Golden Key, Order of Omega, Leonard Leadership Scholars, the Honors Program and The Arch Society.

Tri Delta's annual philanthropy event is a pancake supper which raises money for Tri Delta's national philanthropy, St. Jude Children's Research Hospital. Other fundraisers for St. Jude include an annual bowling tournament, silent auction and letter writing campaign. The members of Tri Delta are proud to have raised more than $70,000 this year for such a worthy cause. Each year Tri Delta is also proud to be among the top sponsors for both Relay for Life, ugaMIRACLE, and UGA Heros.
The sisters of Delta Delta Delta welcome you to the University of Georgia and look forward to seeing you during Recruitment.

Delta Delta Delta
1111 S. Milledge Ave.
Athens, GA 30605

Nickname: Tri Delta, Tri Delt
Street Address: 1111 S Milledge Ave
Natonal Founding: Boston University, Thanksgiving Eve, 1888
Local Founding: 1934
Colors: Silver, Gold, and Cerulean Blue
Flower: Pansy
Symbol: Stars and Crescent, Pine
Magazine: The Trident
Mascot: Dolphin

National Website
Chapter Website