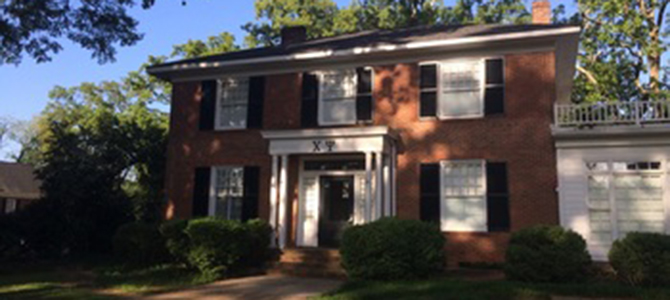 National Founding: May 20, 1841
Local Founding: 1890
CHI PSI Fraternity was founded on May 20, 1841 at Union College in Schenectady, New York. Shortly after, Alpha Alpha Delta of Chi Psi was founded at the University of Georgia on April 11, 1890, with a group of 18 outstanding men, making it one of the most storied fraternities on campus. Chi Psi prides itself on being a unique society on the college campus, with many firsts among the fraternal world. As the oldest social fraternity in the nation, Chi Psi was the first to have a house, affectionately dubbed "The Lodge" among our Alphas. Our Brotherhood was the first to have a full-time traveling leadership consultant, and the first to have an educational program that supplements the formal curriculum of college life.

This program, Chi Psi's Program for Excellence, helps our Brothers understand the challenges they face and how to advance their lives intellectually, morally, and socially. Each year, the Program for Excellence assists brothers in their professional maturation, by pairing brothers with numerous employers across the Southeast and the entire United States. The Program also gives Brothers the tools necessary to become exemplary gentlemen, from seminars to teach them etiquette and leadership skills, to activities that expose Brothers to the finer things in life, such as receptions and outdoor excursions with alumni.

As men of Chi Psi, we value the development of brotherhood among all members of the Alpha and strive to build unity through scholarship, leadership, and service. Furthermore, we recognize that the bond of Brotherhood is lifelong, transcending the college years, giving us an extraordinarily strong alumni base. We enjoy building these relationships throughout the year with numerous events, such as football tailgates on our lawn, trips to St. Simon's Island for the Georgia-Florida game and the Smoky Mountains for Mountain Weekend, our Fall America Party, and an annual Spring Formal.

"The true gentleman is the man whose conduct proceeds from good will and an acute sense of propriety, and whose self-control is equal to all emergencies." A man of Chi Psi is devoted to the cultivation of elevated and refined friendships. We are a family of gentleman in the pursuit of excellence.
Contact Information
"Chi Psi"
1120 S. Milledge Ave.
Athens, GA 30605

President
Erik McCune
erikmcune4132@gmail.com

Recruitment Chairs