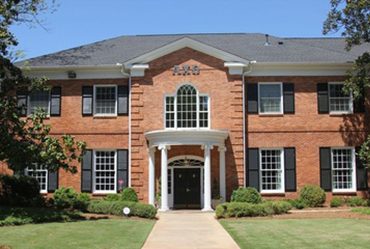 Alpha Chi Omega was founded by seven women at DePauw University in 1885. Their badge, the Grecian lyre, represents the musical talents of its founders and their dedication to the arts. "Together let us seek the heights" is the motto that Alpha Chi Omega chapters strive to emulate in order to succeed as sisters. The Beta Sigma Chapter at the University of Georgia has been honored as one of the top Alpha Chi Omega chapters in the nation for over a
decade.
The sisters of Alpha Chi Omega pride themselves on being actively involved on UGA's campus. Many sisters hold leadership positions, including Executive Director positions, among UGA's largest philanthropy organizations such as Relay for Life, HEROs, and UGA Miracle. Several members are also involved in academic, leadership and honor societies including SGA. Alpha Chi sisters support UGA athletics by volunteering in programs such as Deck Dawgs, UGA Gameday Hosts, Diamond Darlings, and Hoop Girls. In addition to being team ambassadors, Alpha Chi cheers on the Dawgs every Saturday during football season. GO DAWGS!
Beta Sigma is also actively involved with Relay for Life, the chapter philanthropy. They have hosted a basketball tournament for the past few years in order to raise money for Relay. The event is extremely close to the hearts of Alpha Chi sisters and allows everyone to unite in order to support Relay's battle against cancer. Alpha Chi's national philanthropy is Domestic Violence Awareness. Each year, Beta Sigma hosts 'Barefoot on the Lawn,' an event where members invite students to enjoy a home-cooked meal and hear live music at the Alpha Chi house with the goal of raising money for DVA. Alpha Chi Omega warmly welcomes you to the University of Georgia. We are looking forward to meeting you this recruitment season!
Alpha Chi Omega
1064 S. Lumpkin St.
Athens, GA 30605
Nickname: Alpha Chi, A Chi O
National Founding: DePauw University, October 15, 1885
Colors: Scarlet and Olive Green
Flower: Red Carnation
Symbol: Greek Lyre
Magazine: Star
Mascot: The Lyre